You can help Portrait Painter Robot Project win part of $100,000 in cash prizes for Independent by voting on your favorite artwork.
Simply click here to start voting.
Portrait Painter Robot Project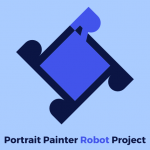 Independent


Jose Salatino: self-taught, obsessed by knowing how things work, and by building new things. A covert maker that comes to light after his encounter with Arduino. What can I do? A little electronics, a bit of programming, I'm skilled with my hands, and I was born in a country where you have to solve problems with the least resources. What I want: The same as everyone: To be able to live doing what I like: Invent and build simple and cheap useful machines. Mauricio Salatino: Informatics Engineer. It is who makes the software we develop comply with the programming standards of large projects so that it can be understood and used by anyone who wants to use it. Flor Salatino: Multimedia Engineer: In charge of the dissemination on social networks and the documentary record of the project. Ezequiel Salatino: Graphic Designer: responsible for the project's image. He has designed personal cards, stickers, stickers and all the infographics used in fairs and events where the project has been shown.
Re-Interpreted Artwork
---
Previous work gallery ( not eligible for competition )
---